You Ought to Know: Pat Cappabianca
His life is like a film. And Cornell Green was there for the screening.
December 2, 2011 at 10:00 AM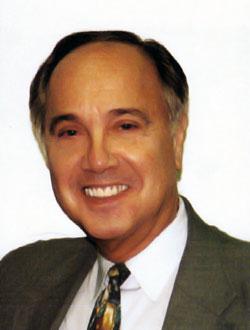 His place is full of pictures. They're on nearly every wall. And where there is a blank space, a small frame, memento, a poster, or something, is always hiding somewhere, in the next corner, hall, or nook. There's a map of Italy on his basement door, mostly blue—a flat, lazy blue with the boot in the middle. Just glancing from the top of the stairs, you can tell the basement is decked out. It isn't dank like most . Big fuzzy clouds of light fan out to welcome you from under the beams. The steps are cushy. They're carpeted. They buoy your weight as you hang your head and slink toward the light.
The basement has carpet too, and there's a lot to look at. There are rows and rows of books, more pictures, bobbleheads, knickknacks, and boxes and boxes of VHS films. There are pictures of Marilyn Monroe and old-style black and white pictures with deep black edges and sharp lines. One is of a pretty Italian lady with a somber face. There are many more like it—foggy gray clips of mysterious eras.
"I like movies," he says, grinning as I sit down. He moves his hands when he talks. "Film, cinema—you know?" his friendliness beams out, like the light in his basement. He says he's a performer at heart.
But his character isn't melded with a movie role or bobble-head, not like the Clark Gable, Humphrey Bogart, or John Wayne figurines that line some of his shelves. Bogart's low-key badass, John Wayne's granite-tough straight shooter—those archetypes have been burned into the collective conscious. We invoke them without thinking. But his big roles—civic superstar, champion of fairness, inspiration farmer, altruistic badass—have played out, not in films like "Casablanca," or "Gone with the Wind," but in Erie classrooms, clubs, halls, and streets. He's a main character in the Erie show. And the film is still rolling.
Community has always been a big thing with Pat Cappabianca, who is nearing the end of his latest term on Erie City Council. He grew up in Erie's Little Italy neighborhood, an area marked most notably by the stretch of West 18th Street capped off on the east end by Sassafras Street, and on the west end, by Liberty Street. It was a different time then. These days, the area is best known for crime and drugs. Back then, Pat says, Little Italy was a very tight-knit community with low crime, virtually no drugs, and a cohesive sense of pride and belonging.
"It was probably the best neighborhood in the whole city," Pat said. "It wasn't overly prosperous, but for unity and background, it was great."
Pat's father came to the United States as the Royal Italian Consul for our area. Consuls worked under international ambassadors and were similar to ambassadors but on a smaller scale.
"We had all kinds of company at the dinner table," Pat said. "Professors, illiterate farm workers, master craftsmen, attorneys, you name it. They were all at the table. What kind of lesson did I get? It was a lesson in humanity really. We were raised in public service."
You could say he was born into it too—literally. Pat was actually born inside the Erie consulate office.
After graduating from Strong Vincent High School in 1950, he was drafted for the Korean War. He went to infantry school in Georgia but never saw action. He came back to Erie and earned a bachelor's degree in education from Gannon in 1957, when teachers started out making $3,200 a year and tuition was $9 a credit.
Pat has worn many hats throughout his career. Aside from a holding a gamut of different positions, chairing the Erie Democratic Party, serving as public relations director for the Pennsylvania State Education Association, serving as president of a family business his father started, Cappabianca Travel, he has also worked as a teacher, an administrator, a civil servant, and a politician, at times individually, dually, and all at once.
He earned his first City Council seat in 1966, and as advisor to student council at Gridley Junior high school through the '60s, worked to instill a strong civic awareness in his students.
"We held civic conventions just like they do on the national level for president," Pat said. "My kids at Gridley voted on real voting machines."
Pat created educational programs that produced some of Erie's most respected leaders. He taught public defender Ian Murray, who he remembers, wasn't allowed to run for Student Council because he had a C on his report card. Dr. Tony Snow was one of his Student Council presidents. Former Erie Mayor Joyce Savacchio was one of his students, as well as the current President of Stairways Behavioral Health, William McCarthy.
Grace DeCecco taught at Roosevelt Junior High while Pat was principal there. She admired his sense of fairness and management finesse.
"He was a strong leader at Roosevelt," DeCecco said. "He ran a good school. There was a lot of school spirit during those years. That was a thing he fostered."
DeCecco said the values he displayed as principal bled over into his career on City Council as well.
"He always stood up for the people of Erie. If it was good for the people, then he was for it. If it wasn't, then he would let you know, even at the peril of being disagreed with."
Pat has retired from teaching but is still active socially and civically. Most recently, his sharp tongue, quick wit, and steadfast core of values have surfaced in dramatic fashion during his latest term on Erie City Council.
Pat was one of very few council members who voted against the hotly contested recent mayoral pay increase of nearly 50 percent. He isn't afraid to play the maverick, and hasn't changed in that respect since his very first City Council term in '66. He was the sole dissenter in his first ever City Council vote: A 6:1 vote against a $5,000 subsidy to Erie's then private bus company.
When another councilmember asked about the vote afterward, he said "I can't help it if you other six guys were wrong."
Pat lost his City Council seat, which he'd held since 2008, in the most recent election, though he still feels he can do more good there. But in his roles of teacher, maverick, civil servant, and altruistic badass, the film is still rolling. Unlike John Wayne or Humphrey Bogart, the critics don't factor in on the power of his performances. A character like Pat can save the day without a distribution deal, rave reviews, or a nod from the Academy.
Because in the theater of life, the audience is the cast. And the hero can actually hear the applause of his own ovation in 10D Surround Sound Real Deal Audio.
This film is rated B, for Badass Public Servant.