A Quick Q-and-A with Turkuaz
Brooklyn power-funk army is bringin' it to Pittsburgh -- TONIGHT! Hop to it!!!
April 19, 2014 at 8:54 AM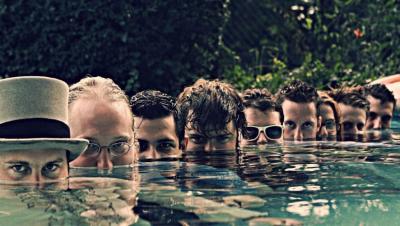 Got big plans for a busy Easter weekend?
Well, if it's not already on your agenda, before all those Sunday egg hunts and ensuing candy-induced comas, you may want to carve out some time for a little road trip down to Pittsburgh -- tonight -- for a heaping helping of some sweet, sweet Brooklyn power-funk.
Turkuaz -- a stellar nine-piece ensemble that describes itself, most aptly, as "a funk army of multi-instrumentals and singers, part freight train and part tyrannosaurus rex," hits the stage at Pittsburgh's Rex Theater tonight, joined by also-amazingly-talented openers Alan Evans' PLAYONBROTHER.
I recently caught up with Turkuaz guitarist and vocalist Dave Brandwein for a few words on the group's latest work, shaking off the winter, the sum-sum-summertime, and some other stuff. Here's what that truly funky fella had to say:
Ryan Smith: So, tell us a little about that funktastic new album, Dave.

Dave Brandwein: This album was all done at my studio, Galaxy Smith, in our hometown of Brooklyn, NY. It was pieced together over the past year and half or so as we started hitting the road more regularly. In that time, we went from our
previous 50-60 shows per year, up to about 180 or so. Though it was difficult to find sufficient recording time in between tour dates, the fact that we were playing so much really added to our tightness as a band, as well as the developing of the arrangements of each song. I think this album displays a bit of our range as a band. There are some
more straight ahead funk tracks, but a lot of heavier rock stuff, as well
as some soul and more old school tracks as well. This is also the first album to feature our guitar and keys player, Craig
Brodhead, as well as vocalists Geneva Williams and Sammi Garett. It's considered by the band to be easily our best original studio release to date.
RS: And how did Turkuaz keep itself busy during that looong, cold winter we're just shaking off?
DB: It wasn't hard -- we were touring the whole time! Not only that, but we toured through some of the snowiest regions of the country, including Montana, Colorado, Vermont, and Maine, which, strangely, weren't the snowiest places we ended up. We were caught in snow storms all the way from Massachusetts to Missouri. It was certainly a long, cold winter. We're
thinking next time, December through March would be a great time to tour the southern half of the country -- though I'm not sure that's what's gonna happen.


RS: What are you all bringing to sunny Pittsburgh this weekend, and what's happening on the horizon this summer?
DB: We'll be performing plenty of stuff off of Future 86, as well as some much newer material. We're always sure to include our "classic" stuff in our repertoire. We love that our crowd seems to appreciate our older stuff, while always being willing to embrace the new. It allows us to stretch out a bit in the setlists and make them vary more from night to night.
As far as this summer, [Turkuaz is playing] lots of festivals all over the country. High Sierra out in California is something we're really excited about. Summer Camp out in Illinois, LEAF down in North Carolina, and Flood City again in
PA on our way back from our July west coast tour. In June, we have a residency every Wednesday at the 8x10 in Baltimore, which is helping us dip down into the southeast more each week than we've been doing so far. We're
hitting hard, touring the whole summer, before lightening up a bit in the fall to record yet another record. Lots going on, and we're keeping ourselves busy!


RS: That's all most awesome. Anything you'd like to add?
DB: We hope everyone keeps coming out to the shows, telling their friends, and listening to the new album. There's nothing we love more than meeting enthusiastic fans who believe in what we're doing. It helps reinforce our love of what we do, and adds to our ability to work hard, and spread our music to as many people as possible.
For more info on tonight's show, check out 'Turkuaz w/ Alan Evans Trio,' The Rex Theater, and/or Grey Area Productions on Facebook, visit turkuazband.com, or call the Rex at 412-381-6811.
And to get a little taste of Turkuaz's sweet funk, just check this out:https://www.youtube.com/watch?v=I42g4Ywfwus.