Back in the Day: When Erie was a Titan
Was it sunsets or industry? Cornell looks back on Erie?s history.
December 15, 2011 at 1:00 PM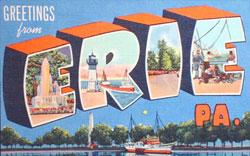 Okay, granted, the sunset thing turned out to be an urban legend. Everybody swore Erie had the best sunsets in the nation. It had been proven, they said, by some obscure issue of National Geographic—that everybody knew about, but that no one had ever seen. 
Until it turned out to be a farce—proven in an article in Lake Erie Lifestyle.
And it's cool. Erie shrugged that one off. The Bay City has 99 problems. A farce ain't one. And besides, there really is a mention of Erie in an issue of National
Geographic. And it's not about sunsets. It's about industry. Word.
The May 1919 issue of National Geographic Magazine nudged Erie onto the old-school media B-list with "The Industrial Titan of America," a verbose chronicling of the economic exploits of the state of Pennsylvania that almost smacks of a Norse saga on American manufacturing. The subhead reads: "Pennsylvania, Once the Keystone of the Original Thirteen, Now the Keystone of Forty-eight Sovereign States."
The article's Author, John Oliver La Gorce, paints Pennsylvania as more than an awkward square on the political map. He almost likens it to the country's manufacturing Beowulf.
The numbers are impressive. La Gorce wrote that the Titan's population was more than the combined total of New England, plus a few Western states, and marveled at the studly manufacturing industry that held an eighth of the country's manufacturers, a quarter of its minerals, produced a sixth of the world's pig iron and coal, and had an industry diversity that Kansas or Cali couldn't touch with a 3,500-foot pole.
When naming contributors to Pennsylvania's industrial Titanhood, La Gorce ran through a roll call of scrappy PA heavyweights that contained more superstars than the Miami Heat. Scranton was the, "Hive of Industry," boasting booming industries based on huge reserves of anthracite and black diamonds. Reading, a "city of hosiery and hardware," was reported as being the second city in the nation in production of those things. With over 500 manufacturing plants, it apparently ranked welterweight in size but heavyweight in manufacturing power. The list went on, with Philly, Pittsburgh, Altoona, Wilkes-Barre, and other smaller manufacturing powerhouses with Scrappy-Doo size, but that busted out mammoth industrial output.
And of course Erie was on the list as well. But La Gorce didn't paint it as as much of a standout producer as the other towns. La Gorce's section on the Bay City focused more on how it became an official part of the legendary Keystone roster.
It was originally assumed that Erie was part of New York, as the New York-Pennsylvania line apparently extended right into the lake. But the survey revealed a small triangular area that didn't belong to either state, so it was up-for-grabs. Then Massachusetts went after it, and apparently so did Connecticut. The Iroquois and the Seneca tribes even had a stake in it. But after the smoke cleared, it ended up with Uncle Sam, and was sold to Pennsylvania in 1792. 
Erie did get an honorable industrial mention though. La Gorce gave Erie props, noting that it had around 500 manufacturing plants, the largest horseshoe factory and pipe-organ  manufacturing plant in the world, that it made more "baby carriages, gas mantles and clothes-ringers than any other city,"  and boasted one "finest harbors on the Great Lakes."
La Gorce also mentioned that Erie was one of few American industrial cities that hadn't ignored the value of esthetics. Apparently, Erie borrowed from Chicago's playbook, creating a city planning commission to give the city time to stroke its chin and marinate on things as industry-waves continued to blow through its urban landscape.
See? It wasn't so much about sunsets, as reppin' the Pa. set, son.