Erie Faces Erie: March 1, 2017
Mike Vickey: proprietor, Nickel Plate Press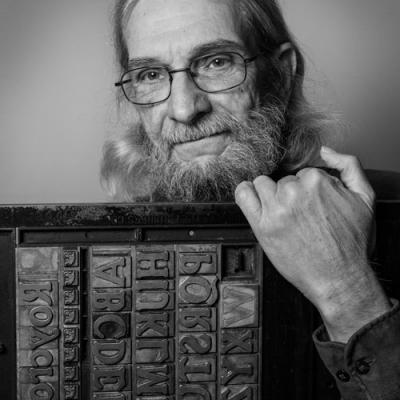 "I've gone back to old ways for my own satisfaction, a revival of craftsmanship that has pretty much been lost."
Ed Bernik: When did you start collecting type?
Michael Vickey: I bought my first press when I was 13 and started my business full time when I was 19. I started collecting type when I was in 10th or 11th grade, right about the time photo-typesetting was coming in and the printers were getting rid of metal and wood type.
I collected as much as I could. A lot of it came out of the Erie Litho and Printing Company, between Third and Fourth streets on State Street – what's now the Professional Building. They were bought out by Diamond International. They had a wonderful type collection, and didn't throw anything out. Type from them that goes back to the 1870s is in my collection now.
When major printers in Cleveland, Buffalo, Pittsburgh, and Rochester closed, I'd collect as much display type as I could afford. At the time, it was all being sold at scrap prices. I purchased some of my equipment at that time. My Vandercook proof press came from Superior Typesetting in Cleveland. Mangis Typesetting in Pittsburgh had a very rare collection of European type and old American type. I was in the right place at the right time – very lucky.
EB: What was your fascination as a kid with printing?
MV: I'm not sure, because no one in my family was a printer. My grandmother from Germany worked in a book bindery, but the fascination with type I can't explain. It's weird – I just love working with metal type.
EB: Now there's a resurgence in letterpress.
MV: The last few years have seen a real interest. Some colleges have book arts programs. The Vandercook proof press has become pretty common in these programs along with handset type. People find it fascinating. You could do the same layout and design on the computer faster and easier, but something makes your mind work a little differently, having the type and blank spaces physically in your hand. Moving them about to compose a page, and seeing it at actual size.
EB: Is there a beauty to letterpress that you can't achieve on a conventional press?
There is a feel to it, and you can see a difference. The fact that it's a craft reveals itself in the piece.
MV: There is a feel to it, and you can see a difference. The fact that it's a craft reveals itself in the piece. That's what people are attracted to. The pinnacle of letterpress was during the Arts and Crafts movement in the early 1900s. Some of the printer or ink manufacturer advertising from that period is incredible work. You look at it now, and you have to admire the craftsmen who achieved that level of quality and intricacy. I'm doing it because I love working with type, running the press, and seeing the type put an image on the paper. I like the feel of the paper. The printing business has been good to me for 40 years and even though things have changed, I've gone back to old ways for my own satisfaction, a revival of craftsmanship that has pretty much been lost.
EB: Have some fonts been lost?
MV: Some of the old fonts can't be reproduced even on the computer. Close, but still not the same. One of the advantages that metal type had over what you see now off a computer is legibility and readability. Take one particular typeface: The smaller sizes are actually wider proportionally than the larger because it makes it easier on your eyes. And you can't do that on the computer. You would need a different font for each size, which is essentially what you have with handset type. There are typefaces that have been digitized, which I've done myself for the computer, but it's not the same.
EB: You consulted with Corel Draw as a go-to type guy.
MV: Early on, I saw where the industry was heading and worked with them through version 4.
EB: Are professionals across the country hand-setting type?
MV: Not so much commercially. Most are private presses. I do some commercial accounts' work on letterpress. It's not necessarily easier but in certain cases I know it will look better. I want to print things that people will want to save; that they'll pick up from time to time and enjoy looking at what I've done, not toss it in the wastebasket. A number of people just like me in the letterpress revival share my commitment to craftsmanship.
EB: Sitting here in your shop is like being in an antique printing store. What's the oldest piece that you still use daily?
MV: I have a hand press that was built in Cleveland at Chandler and Price in 1909, a 7x11 platen press. Some of my type cabinets and type go back much earlier, to the 1840s, before the standardized point system. I have a bunch of oddball-type sizes – 17-point, 21-point – each type manufacturer had its own system of measure, so they weren't compatible with each other. By 1892, there was a consolidation of several type founders. An agreement was reached for standardization, and the American Point System was established, which most English-speaking countries use.
EB: Besides English, you also have other languages.
MV: I have Swedish type from the newspaper in Mt. Jewett, Pennsylvania. A large part of my collection came from the Vincentian Press at St. John Kanty Prep, where they did a lot of printing for the area's Polish community.
EB: You actually do printing internationally.
MV: I've done work for people all over the world, including a really neat project for Oxford University for their bibliophile society last year. It was completely hand-set type and printing. I'll be doing that again next year. I've had visitors from all over the world. A few internet sites plus my own webpage get me out there. Pretty neat.
EB: You're also a nationally-known dulcimer player.
MV: Yeah, I won the Eastern Region hammer dulcimer competition last year as well as the mountain dulcimer, and four times hammer dulcimer for the Florida old-time music championship. My group, The Good for Nuthin String Band, plays regionally and has three CDs.
EB: Who was your mentor?
MV: My good friend F. Earl Bonnell, who was from North East, had a private press called the Bunny Press. Earl did strictly hand-set type, printing, and binding on a number of small keepsakes, booklets, and hardbound books. Very limited editions, 100-300 copies. He was a great person to have as a guide as far as putting type together and looking good. Earl left me his entire collection of equipment, type, and a wonderful library of books about printing.
Not having room or immediate need for the equipment, I put everything in storage. Recently, I moved everything into my shop and one of the last things to come in was a galley that Earl had set, which sat in storage for 30 years accumulating dust. I brought it in and proofed it. When I read it, I thought to myself, "This is one of the most profound things I have ever read." It's a poem called "The Watermill," and I decided to make a little booklet out of it as a tribute to Earl and to commemorate my being a printer for 50 years.
Michael Vickey: Nickel-Plate-Press.com
Ed Bernik: bernikphotography.com