Erie Faces Erie: March 15, 2017
Tom Weber: filmmaker
March 15, 2017 at 2:00 PM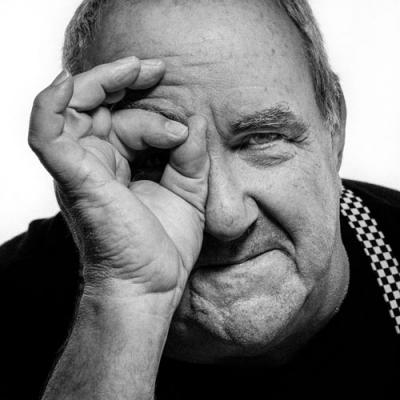 "To me, the goal of art isn't to make a ton of money. It's to touch people here in the heart."
Ed Bernik: I'm going to start with the big question. Why do you make films?
Tom Weber: Why does any artist make art? My friend David Greenberger says, "You're making something that nobody asks you to make." I make films because it involves writing and sound and images and a lot of different sensory input – and is a really great way of telling a story. Of course, you've got to find the story, and in documentary, that's the hard part.
EB: The term documentary film encompasses a lot of sub-genres. You could be historical, investigative, political. Sometimes it cloaks commercial agendas, but where do you focus your efforts in documentary filmmaking?
TW: Growing up, it was kind of a golden age of documentary making because public broadcasting was new. At the time, public broadcasting had a lot of money to throw into documentaries, so you had all of these great documentary filmmakers running around. D.A. Pennebaker, who made the Bob Dylan documentary, Don't Look Back. The Maysles Brothers, who made Grey Gardens and Salesman and Primary and Gimme Shelter. I always aspired to make documentaries as a young person – as a teenager, when I was very into journalism and writing and photographing. When I got a summer job at the Times-News, I was looking for a job as a photographer, but they didn't have any. They had an opening for a reporter, so I became a reporter.
EB: You tend to focus on what I'm going to call more of the underground arts. Are you doing it because of an anthropological reason, or is it to preserve the times?
TW: My grad school research methods classes were all in anthropology, ethnomusicology, cultural anthropology. I was very much trained in this unobtrusive observational style of doing research. I did my doctoral thesis about reggae music as a case study of the record industry. In music we used to have all these little regional scenes around. If you'd go to New Jersey, the bands would sound different from if you'd go to Chicago, and California sounded different, and Texas had their own sound. I just always thought, "Let's shine the media spotlight on the artists that aren't getting national recognition."
I felt the kind of stories that I wanted to tell were in places like ours, and places like Buffalo or Detroit, or the cities around here that are kind of just bigger versions of the same thing.
EB: I know you're friends with Peter Case, who's a former Plimsouls guitarist. I saw a little clip on him where he talks about the freedom of playing solo. Do you embrace this same idea in your filmmaking?
TW: My first intensive filmmaking experience was traveling around the country with Peter Case and Dave Alvin and Mary Gauthier and Chris Smither and all these wonderful solo artists who I made Troubadour Blues about.
I think there's something really liberating in being a one-man band. You can really put a personal vision on the screen. I do everything myself from having the idea to making the arrangements to driving wherever I have to go or flying wherever I have to go to bring the footage back. It's a case of distilling narrative themes or narrative points out of the conversations I had with the people who were actually doing it, then structuring a film around that.
[Peter Case] is someone I take a lot of inspiration from, because here's a guy who was a misfit in high school, and he dropped out and went to the West Coast and was a teenaged street musician. Peter's been doing that for a long time, pushing 50 years at this point. To me, the goal of art isn't to make a ton of money. It's to touch people here in the heart. That's what I'm all about or try to be.
EB: You have a Ph.D. from Bowling Green State in globalization and electronic media. How does that level of education help you in your personal filmmaking?
TW: My Ph.D. experience was one the greatest experiences of my life. It was really painful wrenching a 375-page doctoral thesis out of myself. Critical thinking skills are the best job skills of all, because you can evaluate something based on evidence and make a decision about it. It's sad that we're not teaching that in school anymore.
EB: Is there anything you would tell a prospective young filmmaker? What would you give them as a laundry list to pursue film as a career?
TW: I think what they need is to watch a lot of movies. Ninety percent of film study classes use Citizen Kane as the final exam. When I was teaching a film study class, I thought, what's a contemporary film that has the heft of Citizen Kane? Spike Lee's Do The Right Thing, which I think of as Lee's Citizen Kane, because he did it when he was 27 years old. It's a brilliant film and nothing he's done since then has really lived up to that level.
As a young filmmaker, if you make Citizen Kane as your first movie, put it in the drawer and forget about it for 20 years. Become successful and then bring it out. If your first thing out of the gate is a masterpiece, what do you do to follow it? I think about developing writing skills, thinking skills, and having a sense of history. If you're a young person who has any artistic aspirations at all, you've got to find your own voice. I think that's the most important thing in arts. That willingness to experiment, but also the willingness of the audience to embrace experimentation.
Tom Weber: tomweberfilms.com
Ed Bernik: bernikphotography.com