Live Music Preview: High School Rock Challenge
Bands take to the stage at Basement Transmission in a competition for studio time.
February 22, 2012 at 11:49 AM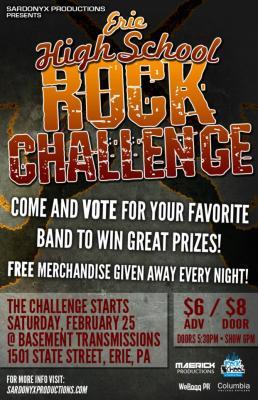 At some point in our youth, we all thought of the stage. The thrill of performing in front of a live crowd as the overhead lights blare down twirled around in our developing minds, eventually ending up as just a dream for some.
For the other's that end up making the stage a reality, there's the Erie High School Rock Challenge, presented by Sardonyx Productions. For three straight Saturdays starting on Feb. 25, local bands will play at Basement Transmissions for a chance to land some studio time  while show Erie what they can do.
"I was a young musician and I wanted to show off my skills back then," said Mike Moscato, owner of Sardonyx Productions. "Now, I want to foster that desire in young bands."
Moscato aimed for that same group in the Challenge. All of the bands entered into the challenge had to either have at least one high-school or middle-school student. Despite the youth of the musicians, Basement Transmissions co-owner Bob Jensen expects the Rock Challenge to impress.
"I think it's going to be a great event," Jensen said. "If you come to [the Rock Challenge], you'll see some of the best talent Erie has to offer."
It's because of the promising local youth that Moscato is running the Challenge. He's taken aback by how good young musicians have become in recent years, so now he hopes that with his help, the event can give them an extra push toward fame, even if they don't take the top spot.
"Not everybody can win, but they can still come away with something," Moscato said. "It's a good stepping stone for young people."
With both judges and a crowd vote determining the eventual victors, over a dozen bands hailing from schools like McDowell to General McLane will be showing off their songwriting and crowd skills in order to win over new fans while competing.
The bands won't be the only people winning throughout the Challenge, either. While the crowd determines which band to vote for, Sardonyx will be giving out prizes throughout the Challenge.
"The crowd's definitely going to have fun," Moscato said. "They'll get to interact with the bands throughout the night and vote for the best."
With the winners getting a shot to make some noise in the music circles, the crowd could get a chance to witness the beginning of a group's ascent into fame. While some of the competing bands are still in their infancy, the Challenge marks a growing point, an event that will test their mettle and perhaps give them the break needed to pursue a dream.
In the end, the Challenge promises to be a display of youth that will act as an outlet for talent, passion and good things to come.
Doesn't sound like a very challenging decision at all.