Tech Watch: A Social Media Love Story
This isn't girl meets boy. This is girl meets app and then takes over city.
February 8, 2012 at 4:45 PM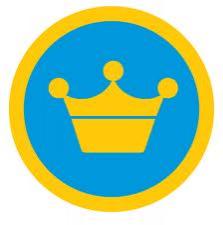 This isn't a story of boy meets girl. This is a story of girl meets app.
This girl, Abby Dinges of Erie, Pa., grew up unaware that one day she would be the "Mayor" of Erie. The app, Foursquare of NYC's East Village, was aware of Abby's destiny and waited until the perfect timing to show up on her mobile device. Abby discovered Foursquare on May 9, 2010. Foursquare knew almost immediately Abby was exactly who it had been searching for.
This is not a typical love story; remember, this is a story of girl meets app.
For anyone who knows Abby, they are probably her "friend" on Facebook or follow her on Twitter. In 2010, Abby met Foursquare, a mobile service that turns sharing your location with friends into a bit of a game.
Users share their location with friends by "checking-in" via a smart-phone app or by text message. When you're out at a restaurant, park, or shopping mall, you find that venue on the free Foursquare app on your smart-phone and simply tap the "check-in" button for available locations registered with Foursquare. Once users check-in at various venues, they receive points. Additionally, people designated as "friends" on Foursquare see your check-in and now know your whereabouts. Users can also connect their Foursquare accounts to their Twitter and Facebook accounts, which then also update when a check-in is registered. By checking-in a certain number of times, or in different locations, users can collect virtual badges. In addition, users who have checked in the most times at a certain venue will be crowned "Mayor" until someone surpasses their number. Various venues have even embraced Foursquare's notion of checking-in and offer special deals to users who are check in frequently.
Why do Abby and Foursquare—as well as many other users of the app—have such a successful relationship together? There are the obvious, game-like reasons that she has had such an extensive relationship with the app, such as gaining badges and mayorships, but there are others as well. For one, Abby likes that users do not necessarily have to "check-in" to get value out of the app. Anyone who simply downloads Foursquare is able to use its "explore" feature. This feature allows users to choose a type of venue or a specific item or place that they are looking for, and Foursquare, in turn, gives them a list of nearby places that are tagged with these key words. This is a great feature that she has used a lot while traveling outside of the Erie area.
Foursquare also gives its users the option of leaving tips for each venue if you choose to. I leave and read tips, good and bad, frequently at various places. This feature is a fantastic way to learn new, "insider" tips from other local Foursquare users about new places you are exploring, as well as learning new things about places that you frequent often. Throughout her nearly two-year relationship with the app, Abby has gained over 53 badges, including "Super Mayor,," which occurs when users become the mayor of ten locations at one time. Foursquare has also given Abby the mayorship of 22 locations, and at one time she believes she was mayor of 28 locations.
Quite a few of her friends also use the app, which is useful to Abby for various reasons. As long as her friends are checking-in, Abby has a quick and easy way to see what everyone is up to. If there is somewhere "trending," then she can make an appearance without having to text or call a long list of people.
I see Foursquare and Abby having a long lasting relationship that will only get better as time goes on and new updates are produced. Maybe one day Abby's love affair with Foursquare will take her to the little town of Ripley, N.Y. where there sits a small church on Main Street called the Ripley Foursquare Church. Perhaps they will check-in to matrimonial bliss, but until then, this "Mayor" of Erie is happy to check-in wherever the app will allow.
-Angela Kelly, project manager