Tech Watch: Who is Tim Cook?
Without Steve Jobs at the helm, Apple must move forward. But with a new face as the company?s CEO, how will things change for Apple?
October 14, 2011 at 9:00 AM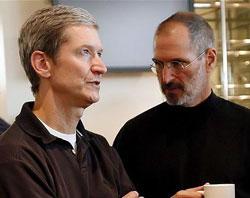 As the buzzing and beeping of smartphones, tablets, and laptops filled the morning air, the world came to a hush for a moment Wednesday, Oct. 5.
Steve Jobs, 56, had died.
Jobs, known for creating one of the today?s leading technology companies in a garage in Cupertino, Calif., changed technology forever by making it more personal and accessible to the common user. He had cited health reasons when he stepped down from his post earlier this year.
But while the world took a deep breath to mourn the loss of an innovator, companies, like Apple, continued pressing on?much as we can assume Steve would have wanted them to.
Apple just recently released the iPhone 4s with hinted plans of an iPhone 5 on the way. And Android has its new operating system slated to hit shelves soon. So while we say goodbye and grieve the loss of a great innovator, we can still look to the future.
So in the post-Jobs world, iPhones continue to come out and Apple still exists. But the company will fundamentally change as a result of the new CEO, Tim Cook.
With new leadership, Apple will no doubt change its focus and strategy. Just as policies change from President to President, the strategic plan of a company is adjusted based on who is CEO at the time. Tim Cook, as the new leader of Apple, will have a huge impact on how the company runs and operates. But in order to understand the future of Apple under Tim, we first need to assess his history.
Before being named the CEO by Jobs, Tim Cook was Apple's Chief Operating Officer and was charged with heading up all international sales and operations. One of his main focuses was to manage the supply chain and operations. What is interesting about Tim, in contrast to Steve, is that he is not as much of a creator as he is a detail man. As evidenced through the recent press conference that announced the iPhone 4S, Tim will not be as prominent a figure as Jobs had been. Tim won?t be the next Thomas Edison, and he won?t be nearly as beloved by Apple fans as was Steve. However, Tim Cook has proven that he is no fool: he knows how to make money for the company by controlling the supply.
Contrary to what many Apple lovers may think, Tim Cook did not just show up as the heir to the Apple throne recently. On November 10, 2008,  CNN Money published an article that argued Tim would eventually be running the company due to his business prowess: ?Almost from the time he showed up at Apple, Cook knew he had to pull the company out of manufacturing. He closed factories and warehouses around the world and instead established relationships with contract manufacturers. As a result, Apple's inventory, measured by the amount of time it sat on the company's balance sheet, quickly fell from months to days. Inventory, Cook has said, is ?fundamentally evil,? and he has been known to observe that it declines in value by 1 percent to 2 percent a week in normal times, faster in tough times like the present.? In the article, the author goes on to state that while Steve creates products that sell off the shelves, Tim Cook (the COO at the time) makes sure that costs to produce the products are low?and, that they make money.
Moving forward, people who like Apple products can still expect to see phenomenal innovation from this iconic company. The difference is that there is no more ?cult of personality? around the CEO. Instead, there is only Tim Cook?the man who has been making Apple great and profitable for years by working in the trenches.