Web Exclusive: The Erie Reader Has Been Scalisized
Todd Scalise's work isn't just limited to museum stairwells...
April 24, 2013 at 1:42 PM
Todd Scalise works in many different media; a classically-trained painter, his talents translate well to everything from sharpie markers to graphic design software -- so much so that you may have seen a lot of his work without acutally knowing it... on our cover.
That's right, during 2011, 2012, and now 2013, Scalise produced a string of impressive cover images for this very publication.
Like his Stairway Annex project at the Erie Art Museum, this retrospective of 16 Scalisized Erie Reader covers will take you on a trip from the past right on up through the present, including the cover of our current issue. You'll quickly note traces of the style he used in the Stairway Annex Project as well as in his award-winning giant pom-pom piece in this year's Erie Art Museum Spring Show, but in the end, these images are fresh and unique with a voice that is all their own but still certainly says "Scalise."
(click on each cover to view the issue)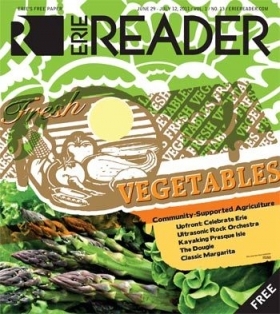 Scalise's first cover with the Reader, June 29, 2011, features a You Ought to Know by Rebecca Styn on Michael Fuhrman, who is now the project manager for Destionation Erie: A Regional Vision.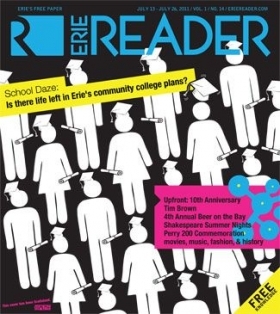 This issue, from July 13, 2011, features Erie County Executive Barry Grossman's take on the proposed community college.
Scalise Scalisized his friend David Nene's 2011 Erie Art Musuem Blues and Jazz Festival logo for this cover, from July 27, 2011.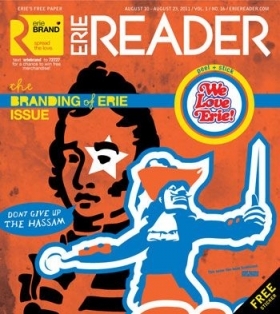 Erie Reader Managing Editor Ben Speggen doesn't always write feature stories, but when he does, they're Scalisized and have Oliver Hazard Perry on the cover, like this one from August 10, 2011.
Scalise's August 24, 2011 cover for a story about the ecological invasion of Asian carp may seem to be a bit of a departure from his style, but it's not - look closely.
Jay Stevens' excellent November 16, 2011 story about the Eerie Roller Girls got the Scalise treatment as well, and quickly became a fan favorite amongst Reader readers.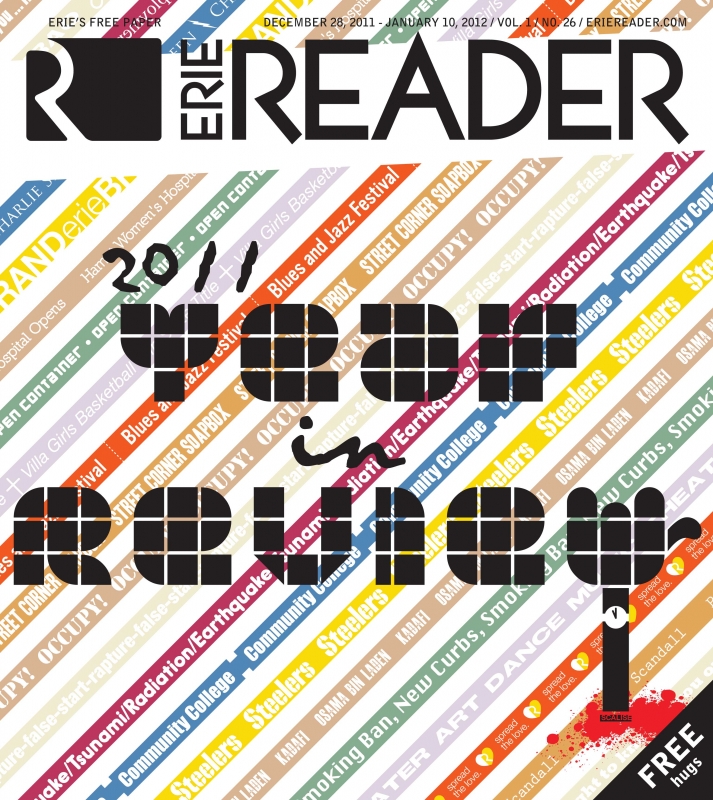 Our December 28, 2011 "Year in Review" issue re-introduced the world to the Parade of Horribles, Erie's oldest tradition. I reviewed 2011's parade. Alex Bieler reviewed 2012's.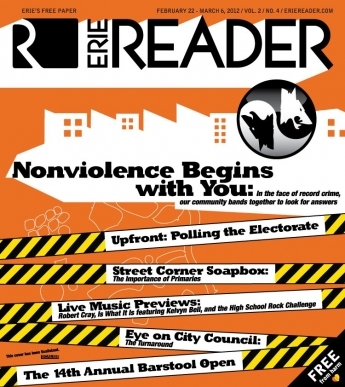 Which wolf wins? The one you feed, that's who. That's why nonviolence begins with you, at least as of February 22, 2012.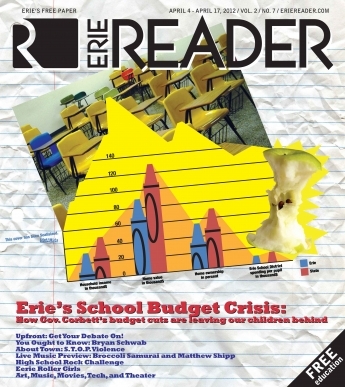 Another Scalisized Stevens story from April 4, 2012, detailing Gov. Tom Corbett's budget cuts to education.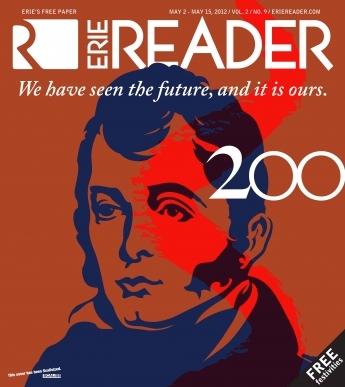 Erie Reader Managing Editor Ben Speggen doesn't always write feature stories, but when he does, they're Scalisized and have Oliver Hazard Perry on the cover, like this one from May 2, 2012.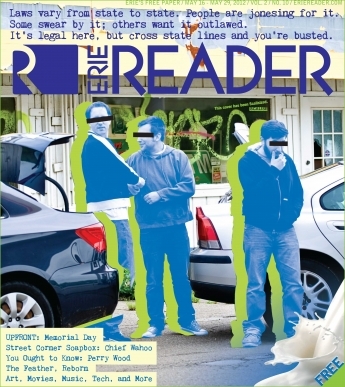 Something shady's going on here - some sort of illicit transaction for illegal commodities...it's...it's...raw milk! This cover from May 16, 2012, features a photo by Heather Prather that was then Scalisized.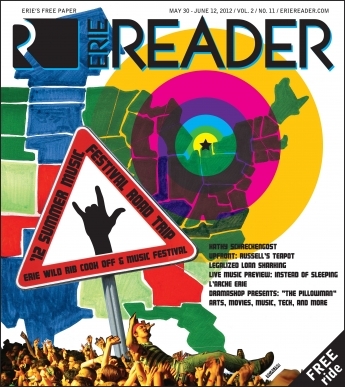 Alex Bieler's May 30, 2012 cover story on summer music festival season took readers on a virtual tour of the area's best fests; Scalise's cover took readers on a visual tour.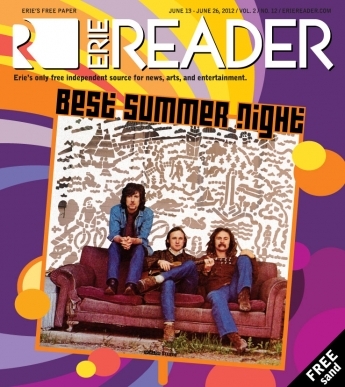 This was indeed the best night of the summer for those who got to see Erie's own wooden boy made real at Best Summer Night, a concert featuring legendary folk rockers Crosby, Stills, and Nash on Presque Isle's Beach 11. Scalise's cover from June 13, 2012 sums it up perfectly.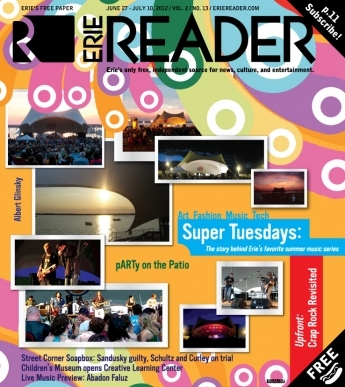 Our June 27 cover featured Scalisization of the summer's popular "8 Great Tuesdays" free music series at the Liberty Park Amphitheater.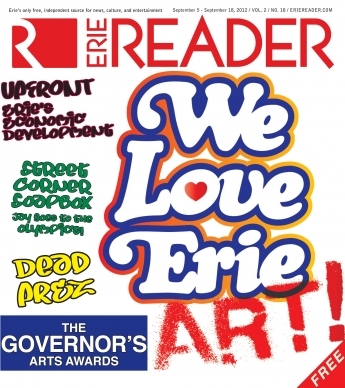 Scalise designed the "We Love Erie Art" logo for the Governor's Arts Awards , which graced our September 5, 2012 cover.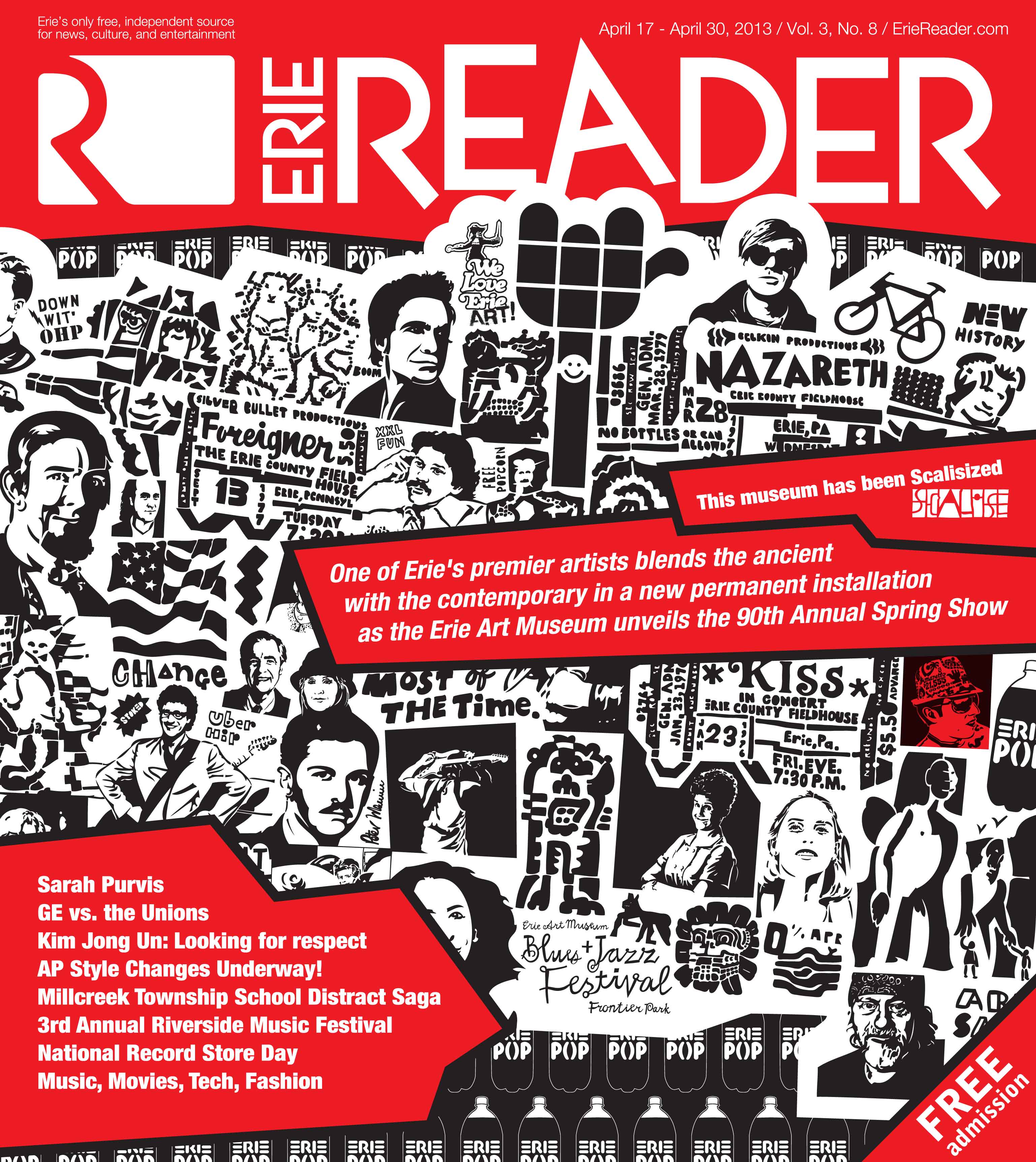 Last but not least, the cover of our current issue - Vol. 3, No. 8, from April 17, 2012 - is the Scalise cover, showcasing his Stairway Annex Project at the Erie Art Museum.