You Ought to Know: The Mending Place
The Mending Place provides refugees with a job and a chance to provide a valuable service to our community. Alex Bieler tells us why the folks working there are people we ought to know.
December 14, 2011 at 11:00 AM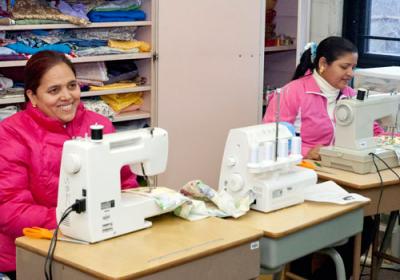 With countless bills to take care of, a paycheck is a necessity—although the work preceding the cash flow can be a source of many of our complaints. From disagreements over proper wages to the coworkers that won't stop talking about their kids, people can forget about how much a job can mean to others in their community.
Some people may grumble about taxes being taken out of their paychecks. But for the Bhutanese refugees now working at The Mending Place, these same taxes meant a new beginning.
As I wait for Ellen DiPlacido, the director of staff development and limited English proficiency supervisor at the St. Benedict Education Center, where The Mending Place calls home, the jovial woman at the front desk excitedly tells me about the services the refugees provide. In just a couple minutes, I learn that The Mending Place will mend any items of clothing brought in, from torn seams to altered dresses, for a donation of the customer's choosing. (Actually, there's no donation required, but for the services rendered, a small contribution shouldn't be too hard to part with.)
Shortly DiPlacido and Managing Director Stephanie Krauza walk me up to the third floor, where the refugees are hard at work. The worker's quickly cock their heads up as DiPlacido, Krauza and a tall, bearded stranger walk in. They quickly introduce me to the two full-time workers, Pabitra Timsina and Tila Kuikel, as well as work experience candidate Him Lal Uprety. As luck would have it, Damber Gautam and Bishnu Neupaney, who were both in their first day of class under Volunteer Sewing Instructor Susan Kirby, also join us.
The Bhutanese quintet were all forced to move into refugee camps located in southeast Nepal, part of an expulsion that has forced over one-sixth of Bhutan's people to leave their home country since 1991 due to political and cultural conflicts. For years, the workers at The Mending Place lived in United Nations High Commission for Refugees camps with their families, being allotted sparse amounts of rice, vegetables, sugar, and salt every 15 days.
"There are seven different camps in Nepal," Uprety explains. "One camp had 24,000 people in it. There was a community bathroom, but no indoor water."
While in the camps, the refugees weren't able to bring in any income, so they had to rely on each other for various needs, such as tailoring or other skills. Timsina and Gautam served as social workers, distributing rations out to their community. Starting in 2006, the United Stated declared an openness to allow Bhutanese refugees into the country. Through the International Office of Migration, the quintet and their respective families all were cleared to move, eventually settling in Erie—a city that, which may come as a surprise, houses more refugees than any other city in the state of Pennsylvania.
When I ask the group how they like Erie, their faces light up. Apart from the weather, which, admittedly, can be rather dreary at times, they took to their fresh starts happily.
"Back in the refugee camp I had no money and no job," says Kuikel, who's been in the country for nearly a year and a half. "Now I have a job and I can make money."
Still, despite having found a new home and income, the quintet still had troubles, most notably not having any grasp of the English language. Through St. Benedict, which acts as a job placement agency for those receiving cash assistance, the refugees learned the language while DiPlacido and Krauza were starting up The Mending Place back in Octocber 2010.
Since then, the various members of the quintet have joined the operation at different times. Timsina has been here since the beginning after relocating to Erie 17 months ago, telling me about how she and Rosa Ortiz, who has since gone on to a different job, would teach each other English because they couldn't understand the other's native tongue. Uprety jumped in last September and Kuikel joined only two months later. Now, they work together to mend whatever customers need while they sew together a new life for themselves in their new home.
"If I don't want to do the work, then I have to go back," Gautam says. "I don't want to go back."
No, this group is here to stay.
For having no grasp of English before coming over to Erie, the group's communication during the interview is impressive. While some things get lost in translation, the group bands together when confusion arises. I understand them fairly well, although I had to get used to "fan" turning into "pan." But even more impressive, part of the workers' responsibility is to call people to inform them that their clothes have been mended—a challenging task that isn't always completely successful.
"Some people just don't understand me," Timsina admits. "I'll call people and because they don't know what I'm saying they won't come and pick up their clothes."
Shortly after that statement, a customer that must have understood his call waltzes into the room. He ambles over to his order before realizing that we're all staring at him. Timsina goes to aid him and presents him his basketball refereeing shirts with necessary patches, as well as a jacket that needed a new zipper. More than pleased with the results, the customer beams with delight as he gives Timsina his donation.
Still, I find out that not every interaction with the community has been as pleasant as our unexpected visitor. Standoffish neighbors and youth pelting stones at their home haven't been uncommon. St. Benedict wants to have a safety course for the refugees that are unaccustomed to dangers at night. Sadly, not everyone is capable of civility, but there are more good seeds than bad.
"My neighbors, I pray to God for them," Gautam reveals. "They come over and see if I need anything, tell me 'ask us if you ever need anything.' They help me out."
At The Mending Place, the former refugees are finding a new home here in Erie, helping out the community. In fact, now they are tied to the community, just the same as you and me.
Or in this case, sewn to the community.