Looking Back at the NFL Lockout
It was almost a season without football but now the lockout is over and the regular season is right around the corner.
August 31, 2011 at 3:06 PM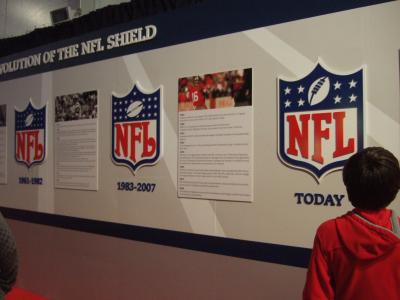 It took 137 days, but the football bigwigs finally realized that the court belonged to a different sport.
After nearly five months, athletes in the National Football League can finally hang up their suits. With training camp updates, free agency signings, and preseason games constantly making the rounds on SportsCenter, any fan can see players donning their pads and be glad.
Unfortunately for Harold Hughes, he's still waiting for his customers to do the same.
Hughes, the Department Leader of Team Sports at Dick's Sporting Goods located in the Millcreek Mall Pavilion, said that the usual influx of budding ballers has yet to arrive.
"Our football business is miniscule right now," Hughes said. "This was supposed to be a big week for us, we advertised for it, but people still aren't coming in. Normally around this time of the year, we're packed."
While working in team sports, Hughes normally hears about the various football schedules in the area through miscellaneous customers in search of necessary pigskin products, but the department leader was left in the cold this season.
"Usually the people I converse with are buying football equipment, but nobody is coming in," Hughes said. "I had to go into footwear to ask parents if training camp had started when it had been going on for a couple of weeks."
With the lockout lifted and free agency in full force, NFL fans may be driven to pick up team apparel for the newest favorite player, news that should leave any salesperson's eyes shining. However, sports store associates weren't the only ones weighed down until the lockout was lifted.
Any other summer, Mike "Chico" Bormann and Mike Ruzzi would have been busy eyeing up training camp reports, rookie development, and free agency buzz. This year, the pair had to wait a bit longer for such news.
During the lockout, Bormann, the host of "Chico & Company" on AM 1260, Erie's local ESPN radio station, and Ruzzi, sports director at WICU, reported on a different type of defensive formation. While the players and owners divvied up revenue in meetings and settled lawsuits on the side, Bormann and Ruzzi were left to divulge the legal jargon that flowed from courtrooms.
"I think it was a lot more of a guessing game," Bormann said. "It was frustrating for everyone. The only people that knew what was really going on were the players, the owners and the suits. They don't want to hear about the problems between millionaires and billionaires; they just want them to get it done."
Ruzzi said that covering the sport was a lot different with the offseason on lockdown, focusing on litigation instead of Cam Newton's draft stock. Luckily, all the usual offseason topics are free game now, but a longer lockout could have cost media outlets.
"If [the lockout] would have dragged on into training camp some more, it would have affected us," Ruzzi said. "We get anywhere from five to 10 stories a day from training camp. Lost stories hurt."
Surprisingly, Ruzzi said that after the initial shock of the NFL lockout, fans didn't clamor for football news nearly as often. According to both Ruzzi and Bormann, the NFL received some help from America's Pasttime.
"We're fortunate that the [Cleveland] Indians and [Pittsburgh] Pirates are both doing well for the first time since I've been [in Erie]," Bormann said.
Despite preseason predictions calling for mediocrity for both teams, the Pirates and Indians are turning in decent seasons, which may have helped take some of the heat off of the NFL discussion.
As the local baseball teams acted as an unexpected distraction for sports fans, the millionaires and billionaires, after a lengthy delay, got a deal done. The days of legal briefs being deciphered should be behind the media outlets. Dick's Sporting Goods should see an increase in customers, especially when the new jerseys hit the shelves.
As Ruzzi said, the NFL will be "back to business as usual," which only leaves one question.
Are you ready for some football?