Our Erie Decade
Looking back on our community's last ten years
January 1, 2020 at 10:00 AM
When historians look back years later on a decade as a singular chunk in a span of time, arbitrarily marked by our calendar-keeping system, it becomes easier to sum up what best exemplified the moments of time and the people that populated them. Time passes and the sifting seems easier, as only the biggest bits remain for evaluation and consideration.
The '80s? Sure, it might've been morning in America, but also think Wall Street and the rise of the Patrick Batemans and their impact on the world.
Then the '90s traded pinstriped suits for flannel and welcomed Nirvana as the scents of Teen Spirit ushered in the final decade of a millennium that drew nearer to a close with the mass school shooting at Columbine High School in 1999 after two young men loaded up on guns and unleashed them on their peers.
If one thing can be said to characterize the 2000s, it might just be the rise of globalization. From the start of the decade with international wars — some still raging on — following the terrorist attacks of 9/11, the rise of technology made the world feel smaller but perhaps no less complicated. Suddenly, social networks allowed people to freely communicate not just with those across the country, but those around the world.
Were those decades only that? Of course not. They, like the 2010s, were so much more. Things will be forgotten only to be remembered later, while some things will remain forgotten. Things won't make the summary, because there simply isn't enough space here to contain them. Reviews of plays never include the writer's script, and this look back at the past 10 years won't allow for everything to be pulled from the archives. But what results is what stuck in the top of mind at the time. How it holds up will be the work of historians to judge in the years to come. After all, as Philip Graham would have it, we are offering up the first rough draft of history.
Too, this draft focuses largely on Erie's 2010s. Little attention is paid to major national stories. Like how toward the beginning of the decade we saw the rise of moments such as #BlackLivesMatter when Trayvon Martin, Michael Brown, Eric Garner, Freddie Gray, and others became household names.
Or how thanks to a 2015 U.S. Supreme Court ruling, not just love but marriage knew no legal bounds.
Or how the allegations of rampant sexual assault led to #MeToo and #TimesUp.
Or how more women than ever before — but still significantly far fewer than men — now serve in the U.S. Congress.
Setting the Political Scene
Today in Erie, we are older, and perhaps marginally wiser, than we were ten years ago. Erie and its surrounding region were both stagnant and unsure. Erie Mayor Joe Sinnott was ambling toward a second term, celebrating as the city pulled back from the long-time-coming brink of fiscal disaster and headed toward a sober but unsatisfying period of uninteresting and uncreative policy and placemaking.
Nevertheless, things were trending upward for local Democrats in 2009 as both Barack Obama and Kathy Dahlkemper, the first Democrat in more than a generation and the first woman ever to represent Northwestern Pennsylvania in Washington, D.C., were sworn in to their respective offices by large margins of victory here in Erie County.
In that first Congressional term, Obama had the mandate of the American people and the benefit of controlling both houses of Congress, putting in place legislation that would ultimately save the American economy from a crippling, deregulation-induced recession and building a comprehensive healthcare bill that would transform how Americans of all economic strata accessed the healthcare marketplace (with a few website glitches along the way).
Dahlkemper's historic vote on the Affordable Care Act cemented her place within the Democratic caucus while it inspired the Republican ire that would ultimately prove her undoing in the midterm elections that followed in 2010. That reaction returned Northwest Pennsylvania and many other congressional seats — won on the coattails of America's first black president — to Republican power and triggered a Republican reckoning that would carry with it consequences for both political parties, the American electorate, and the Republic for much of the decade to come.
But Dahlkemper proved she wasn't done or undone locally. She mounted a bid for Erie County Executive against first-term incumbent Barry Grossman and defeated him in May 2013's primary election. She sought re-election in 2017, and while the final ballot count was close, she defeated Trumpian shoe salesman Art Oligeri to win her second term. Dahlkemper became just the second county executive to have done so since the home rule charter of the late '70s. The only other? Democrat Judy Lynch, who served as the second county executive and was re-elected four times in an era before term limits were imposed.
Our Expanding Social Network
At the turn of the last decade, social media was in its infancy. Fake news and alternative facts were the stuff of 1960s dystopian fiction, not the daily news cycle.
There was no way to know that the cautionary tale of Facebook's inception in David Fincher's The Social Network in 2010 would change the conversation so drastically. The introduction of Instagram and Snapchat as ephemeral forms of self-adulation, self-importance, and self-styled celebrity would change the American lexicon from one of Hope and Change in 2008 to one of introversion and doubt just a decade later. Too, there was no way of knowing that the new brand of fireside presidential radio chats would take the form of tirades on Twitter.
In between that span, the Erie Reader printed its first issue in March 2011. It brought to the region the independent voice for which it has become known and it brought into perspective issues of local importance and national interest.
Beyond that, 2011 was the year Seal Team 6 located and killed Osama Bin Laden in Pakistan; it was the year that the Arab Spring swallowed Muammar Ghadaffi; and it was the year that an earthquake sparked a tsunami in Japan, killing more than 15,000 people and potentially setting in motion the largest nuclear disaster since Chernobyl. Nearly a decade later, American presidential hopefuls continue to debate whether the risk of nuclear holocaust is better than the challenge of harnessing the wind and the sun.
Both nationally and locally, 2011 was the year that the Occupy Movement brought economic and social inequality back into the imagination of the American people. It sparked a moment of social justice here in Erie as occupiers, well … occupied Perry Square. That same year, the Villa Maria girls basketball team won their third state championship. Marjorie Diehl Armstrong was sentenced to life in prison for her role in the now-infamous 2003 "Pizza Bomber" mystery that took the life of Brian Wells, a pizza delivery driver and unwitting accomplice to the deviant plot that became the subject of the 2018 Netflix documentary, Evil Genius.
The decade of the 2010s, which began with one year under the belt of Obama, will end with the Articles of Impeachment sitting in the House of Representatives against President Donald Trump as the irritated eyes of a nation burn red, staring down the clock to November 2020. We are already focusing on the future.
Divided might sum up the latter half of the 2010s for the country, but oftentimes it's easy to forget the past. Literally divided in the 1860s and more economically divided than ever in the decades that followed in the Gilded Age, these United States of America are not unfamiliar with social, cultural, and political strife.
Erie's Changing Face in the National Narrative
For Erie, the strife has remained principally economic. In many ways, the narrative that national journalists and documentarians spun of Erie County has been defining the region and its economic character to the outside world. Even when the focus of the programming wasn't inherently political or economic, as it would exclusively be after the 2016 election of Donald Trump (when Erie County went red for the first time since 1984, by fewer than 2,000 votes) the programs produced here in the past decade with Erie as their backdrop all told the story of a community trying to reconcile with the legacy of jobs lost and opportunities deferred.
Docu-series Game of Arms, which aired on AMC in 2014 and was profiled in these very pages that year, told the long history of arm wrestling in Erie while framing these athletes against their post-industrial reality. The History Channel's American Pickers visited Jesse and Ricardo, the artists also known as "Art in Tandem," who you'd know instantly if you saw them on their tandem bikes, as an art-piece in motion. ABC's Extreme Makeover: Home Edition renovated Clara Ward's E. 21st Street home, a neighborhood known for violence and blight, where she cared for neighborhood children. And most recently, we met the Undercover Billionaire (Glenn Stearns), who came to Erie to build a business with his savvy sensibility rather than his personal wealth and professional connections. While strength, both literal and emotional, can be found in each of these local snapshots, the stories echoed a long-running tale of a city and region in need.
This was further exacerbated following the 2016 presidential election, when national journalists (a defining characteristic applied more loosely to some than others) began to regularly "parachute" into and out of Erie County to profile industrial loss and the long-running crisis of confidence, as former president Jimmy Carter once labeled it. "Erie is a sinking ship," began the refrain that was paired with images of shuttered factories, blighted homes, and empty lots. These were real images, to be sure, but they were evidence of stagnation rather than decline as the jobs had left long ago.
But that wasn't Our Erie.
In the face of dark and dismaying coverage from CBS, the New York Times, and others, a new narrative began to emerge. It was one of possibility and renaissance, not loss and despair. The Atlantic's James and Deborah Fallows began a series of reports in Erie as part of their "City Makers: American Futures" series. That reporting later shaped a chapter about Erie in their 2018 bestselling book Our Towns: A 100,000-Mile Journey into the Heart of America.
Reporting by the Fallows and others who have become recent champions for Erie doesn't ignore Erie's industrial past and challenges faced by a community that operated with a deficit of political will when it came to adapting to the economic realities of globalization. Other supporters include David Ignatius in the Washington Post and urbanist Bruce Katz; the former came to Erie in 2018 at the Jefferson Educational Society's Global Summit and the latter first came to Erie at the Jefferson's Global Summit in 2014 and again three years later at the Summit when he served as the Brookings Institution's Centennial Scholar. Instead, they championed the potential of communities like Erie all across the country, that had the potential of rebuilding in new and innovative ways precisely because of their industrial pasts, not in spite of that history. Katz and others who came to know Erie by way of the Jefferson and its annual Global Summit series continue to uplift Erie and return here to guide and celebrate the work of Erie's civic leaders.
"Erie has as active a civic-reform movement as you will find anywhere in the country, led by people in their 20s and 30s who believe they can create new businesses for themselves and new life for their town."
"Erie has as active a civic-reform movement as you will find anywhere in the country, led by people in their 20s and 30s who believe they can create new businesses for themselves and new life for their town," wrote James Fallows in 2016, in his first of five essays. "Erie is worse off in most ways than it was 50 years ago — but better off than five years ago, and headed toward better prospects five years from now, in the view of most people there."
A Roadmap for City Hall
In a not too subtle illustration of the local groundswell in search of progress, the 2017 mayoral race turned out nine candidates — seven Democrats and two Republicans. The election quickly became a referendum on 11 years of city leadership with Mayor Joe Sinnott at the helm.
The paralysis of local investment, the years of social and economic red-lining of Erie's prominent black community — seen in the protracted fight over access to and the existence of the McBride Viaduct (which was demolished in 2018) and the declaration by an online publication in 2017 that Erie was the "worst place in America for African Americans" — and the challenge of opportunity facing Erie's diverse and growing New American population all painted a grim picture.
Joe Schember and John Persinger emerged from the field of mayoral hopefuls as the Democratic and Republican nominees, respectfully. For the first time in many decades, the city faced a political choice based largely on ideas that would shape the future of our urban core and there was plenty to inform their decision.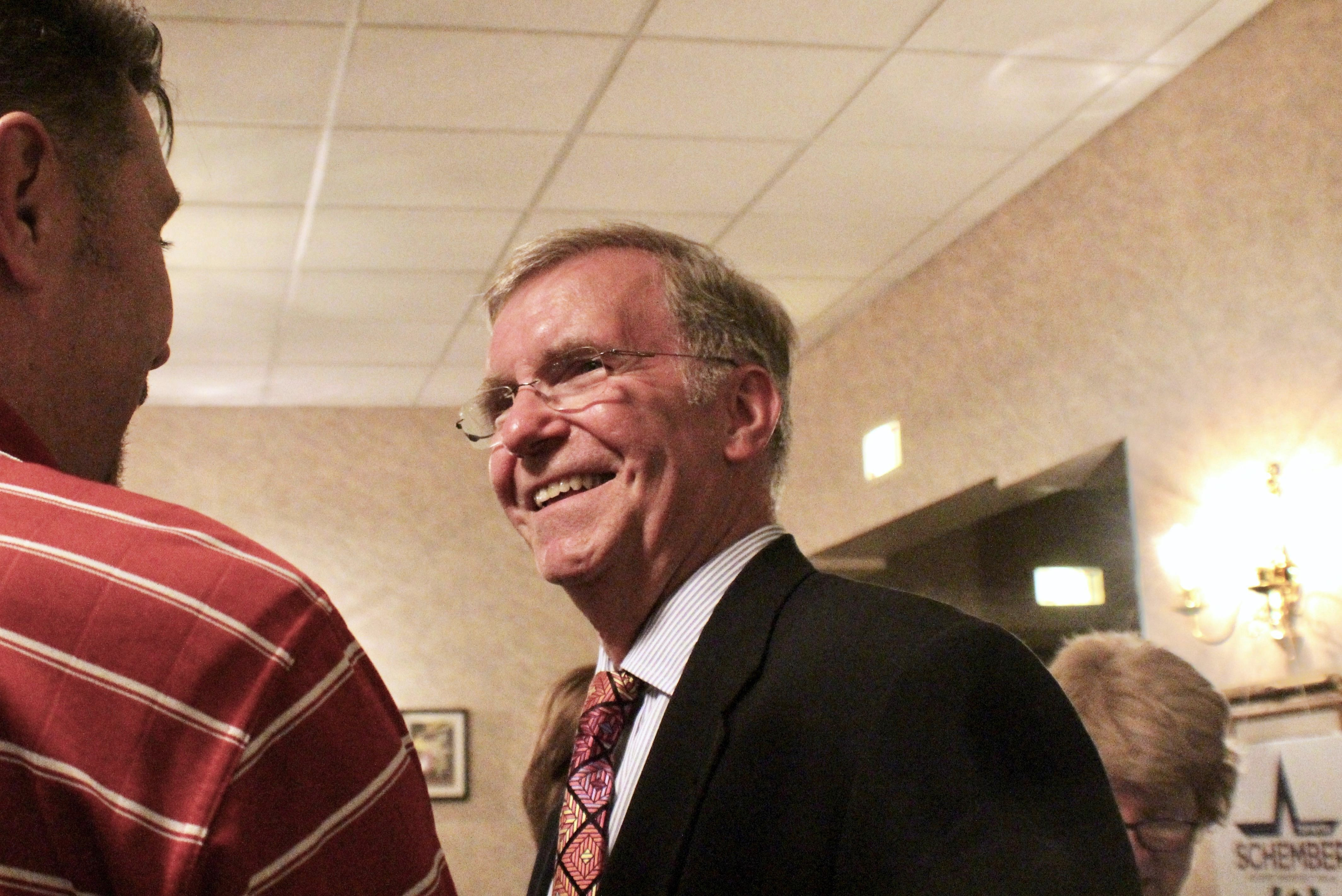 Former PNC Bank Vice President Joe Schember, pictured here on the night of his 2017 mayoral election victory, has displayed a more visible and public style of leadership than his predecessor, three-term Mayor Joe Sinnott. He narrowly defeated Republican challenger John Persinger, who would go on to become CEO of the Erie Downtown Development Corporation.
The city had completed a comprehensive plan, Erie Refocused, in 2016 and the plan's author, Charles Buki, had publicly communicated the urgency of his plan to the Sinnott administration — memorably quoted as "stop doing stupid shit." He was adamant about the need for the city's next mayor to find a way, despite the $600 million price tag, to see through on reducing blight and creating the structural realities required to spur investment in Erie's downtown. When placed on the shelf next to the Erie Downtown Master Plan, Emerge 2040, and the new West Bayfront Neighborhood Plan, local leadership had no shortage of roadmaps leading toward a prosperous future.
It would be the job of the next mayor, Joe Schember, who narrowly defeated his Republican challenger in November 2017, and his administration to lead the city forward and, in the face of multi-million-dollar deficits, bring to life the optimism that the Fallows had written about just two years before.
Erie's Rise as an Opportunity Zone
Fortunately, Schember would not be an island unto himself in this endeavor. Erie's only homegrown and locally headquartered Fortune 500 company, Erie Insurance, also witnessed a leadership change, with Erie native Tim NeCastro taking the helm in June 2016.
Under NeCastro's leadership, the company became the largest employer in Erie County in 2018. Erie Insurance took the title from GE Transportation, which after years of quarreling between the company and the union that represents laborers there, was sold to Wabtec Corporation in 2019. Too, Erie Insurance has since made substantial investments in the community, including funding in part the Erie Downtown Development Corporation (EDDC, which is brand new this decade), and naming John Persinger, the runner-up from the 2017 mayoral contest, as its CEO. They've backed startups, such as SimpleSense and CityGrows, two companies that came to town as part of the accelerator program at the Erie Innovation District (new, too, this decade) and co-sponsored by Singularity University. They've also helped to create a $50 million Opportunity Zone Fund, in addition to numerous others.
Heralded as a frontrunner in the land of Opportunity Zones, Erie received praise from Bruce Katz and others, namely at the Erie Regional Chamber and Growth Partnership's "Homecoming" event in the summer of 2019. The bipartisan tax policy issued under the Trump administration is a means of injecting capital into regions where investments aren't often seen by way of offering the option to defer capital gains taxes. Erie's introduction to the nation of investors and developers continued in December with a feature in the "Meet The Forbes OZ 20: The Top Players Investing For Lasting Impact."
"The combined efforts of the Chamber's Flagship Opportunity Zone Development Company and the public/private Erie Downtown Development Corporation have attracted interest and investment to the Pennsylvania city of just over 100,000 people," Steve Bertoni writes. "Two new Opportunity Zone Funds have been announced in the last six months, with plans to invest some $60 million across Erie's OZs. Both organizations have partnered with Mastercard's Center for Inclusive Growth and KPMG to accurately track, measure, and quantify the economic and societal impact of OZ investments."
While the population number is slightly off — the population for the city and county have declined by approximately three percent since 2010 — the sentiment isn't. Earlier in 2019, the EDDC's work attracted the Urban Land Institute, which conducted an advisory panel and issued recommendations for how to move forward in the development of the designated core downtown area. HUD Secretary Ben Carson also made an appearance at the aforementioned "Homecoming" to discuss more potential for Erie in the Land of OZ.
The development in Downtown Erie and the preparation for a younger and more educated workforce took place parallel to the challenges of education and labor throughout the region. That's why the Erie County Gaming Revenue Authority (ECGRA) has placed millions in gaming revenue into both education and workforce development, in addition to its important investments in place making. It's supported the Summer Jobs and More program to put high school students to work in the summer, and it's supported new technology and innovative solutions, such as the NWPA Beehive network of local universities that support local entrepreneurs to ensure that our workforce and our job creators have access to the resources necessary to move the local economy forward.
Getting an Education
So it's a paradox of life in Erie County, really, that as one sector and its network of support prepares itself for the future of work, a vocal segment of the population questions the need for quality educational opportunities that would support such work.
Former Erie Public Schools Superintendent Jay Badams spent much of the last decade arguing inequity in school funding with the state legislature and the state board of education. Crumbling infrastructure, predatory charter schools, and a declining tax base created a perfect storm for Erie's city school district. Erie's Public Schools were educating students living in high levels of poverty and students for whom English was a second, if not third or sixth language. In mid-2016 Badams made a dire proposal: close the city's four high schools and bus those kids to other districts throughout the county.
As contributing editor Ben Speggen concluded in 2016, "Badams' controversial budget proposal brought the county's other superintendents to the table, and galvanized support from students, parents, educators, and community members who took their collective cause to Harrisburg."
Their efforts yielded a $14 million injection of cash into the Erie's Public Schools' budget in 2018 and led to a restructuring of the district's schools and the closure of two high schools, consolidating those students into Erie High and Collegiate Academy.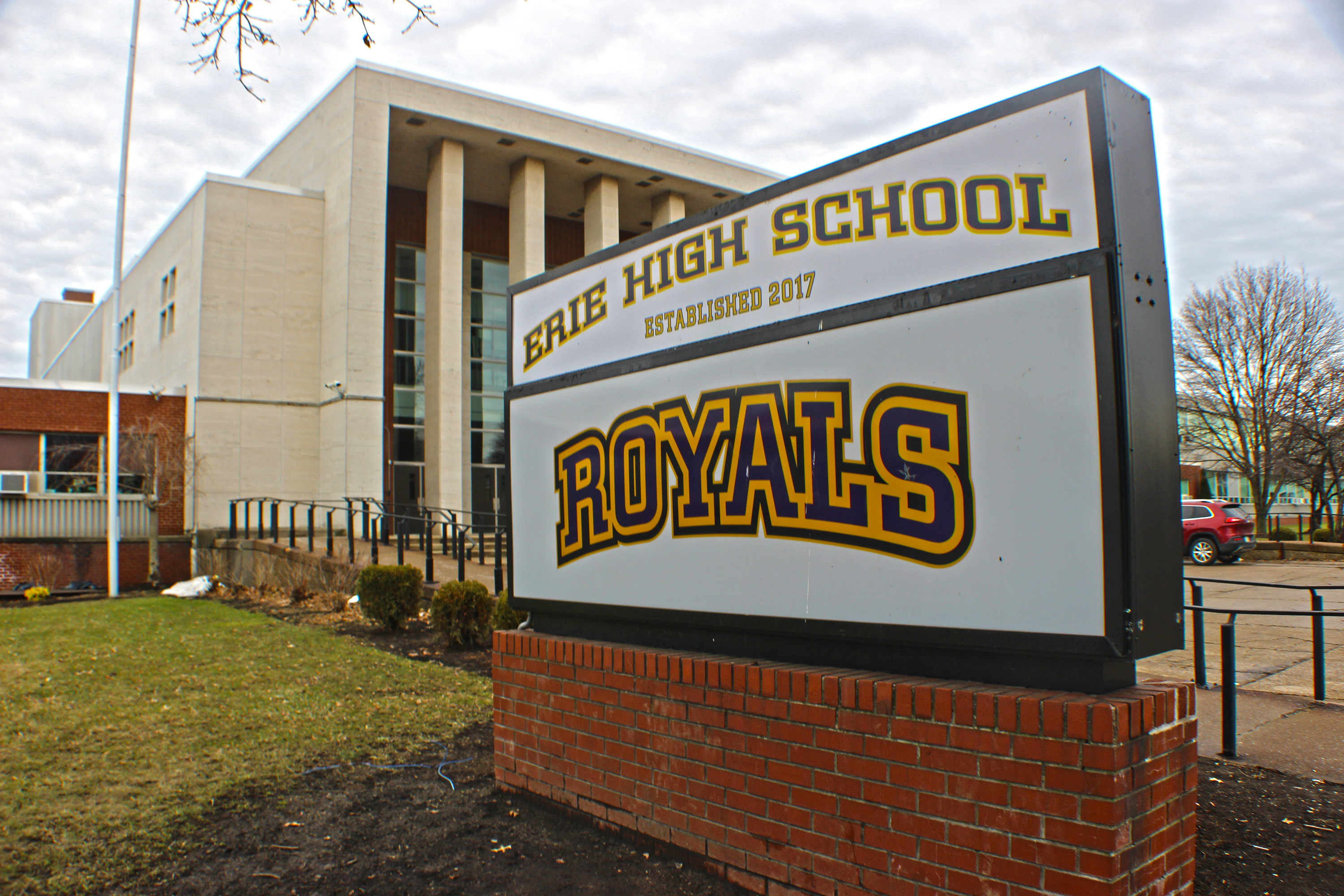 The 2010s were a decade of tooth-and-nail survival for the cash-strapped Erie City School District. In 2017, the district took one of its more drastic measures, consolidating three public high schools (Strong Vincent, East, and Central Tech) into one, rechristened Erie High School. It and Collegiate Academy now serve all of the district's high school-aged students.
But what options have Erie County students upon graduating high school? This is the question that Empower Erie and other proponents of a brick-and-mortar community college have asked for most of the last decade, and it's the second time since 2000 that local stakeholders have made the case for an Erie County Community College.
Erie is the largest metropolitan area in the United States without a community college. Not all high school students will want or need to attend a four-year institution and not all high school graduates will be ready for that experience. Local universities no longer provide the widespread remediation some students need and they are not designed to offer the skill sets required in the changing landscape of Erie's advanced industries. Yet, Erie remains without a community college as the state board of education continues to deliberate in the face of opposition from Joe Scarnati, the president pro-tempore of the Pennsylvania Senate, who has a vested interest in the Northern Regional College, a video-education system spread across 10 counties, including Erie, in northern Pennsylvania.
Erie's local universities added various headlines to the media canon throughout the decade as each of our local universities — often heralded as the reason to abstain from the development of a community college — faced enrollment crises and pressure to be both financially solvent and leave their graduates as unsaddled with debt as possible.
Most recently in August 2019, Mercyhurst University announced its plans to close its campus in North East. Launched in 1991, the campus offers (until 2021) associate degrees and certificate programs, which, along with 150 jobs and 550 students, will be relocated to its main campus in Erie, tightening the university's operating-costs belt but leaving a large economic question mark looming over North Easterners.
Gannon University made substantial investments in the neighborhood it calls home in Our West Bayfront, working to address blight in its own backyard. The university also expanded its backyard with a move to the south, opening a second campus in Ruskin, Florida aimed at students in the healthcare fields, and locally launched the iHACK (Institute for Health and Cyber Knowledge). Gannon joins LECOM, the nation's largest medical school, headquartered in Erie, in expanding to the Sunshine State, with LECOM's Bradenton campus and newly opened campus in Elmira, N.Y.
Edinboro University faced the greatest challenges, as it came off of record enrollments in 2008 to historically low enrollments a decade later as a revolving door of first-time presidents left them under the direction of H. Fred Walker, who prematurely announced, shortly after his arrival and the State System of Higher Education's first-ever faculty strike, the school's imminent closing if it didn't follow his short-sighted vision for the university. In explaining his plan for the university — and his dog-wagging attempt to carry out his mission — to the Chronicle of Higher Education, he also exposed himself as a spiteful misanthrope who held in contempt the students, faculty, and staff who made the university run.
Walker resigned his post in 2018 but stayed in Erie County, where he has since been hired as director of career and technical education at the Erie County Technical School (and has only been placed on administrative leave once in 18 months). Edinboro University, despite Walker's prognostications, carried on without him and, among its many successes in teacher education and healthcare, is celebrating 100 years of art and art education through 2020.
In 2016, Penn State Behrend invested in advanced industries to the tune of $16.5 million with the new, state-of-the-art Advanced Manufacturing and Innovation Center to lower the barriers between academia and industry in one space. Three years later, Behrend was named the academic research partner for the $26 million Magee Women's Research Institute in Erie, which is expected to bring $50 million in research funding to the area and create up to 200 jobs over the next decade. The Institute also received support from the Erie Community Foundation to the tune of a $6 million grant along with $5 million investments each by UPMC, Penn State, Hamot Health Foundation, and Magee Women's Research Institute and Foundation.
As our regional universities innovate for the future of work and industry, the announcement in 2018 that GE Transportation was being sold to the Wabtec Corporation brought with it an air of uncertainty for the nearly 3,000 employees (union and non-union) who work at the iconic facility in Lawrence Park.
After early negotiations broke down between the new owners and the leadership of the United Electrical, Radio and Machine Workers (UE) Locals 506 & 618, which represents more than 1,700 workers at the Erie facility, Wabtec took control of the company and the union went on strike. For nine days Erie was home to the largest work stoppage in the country. As negotiations continued, the preservation of family-sustaining wages and safe and equitable working conditions remained at the forefront of what had become a community conversation and found their way into a newly ratified contract.
Cooking Up a Thriving Future
Turns out this was a big decade for Erie. Who needs a beverage?
We like beer, okay? We like beer a lot. And we've been known to consume it and write about it too.
In the third issue of the Erie Reader in a formerly recurring series titled "You Ought to Know" — with the premise of introducing our audience to someone we thought was on the rise — we featured Jason Lavery. Later, in 2014, we broke the news that Jason, along with his wife, Nikki (both have been featured in the Reader's 40 Under 40 along with other crew members) and his team won a Gold Medal at the Great American Beer Festival.
Since then, we've covered his expansion — from first hosting "growler hours" on Saturdays to launching a pub and restaurant, to ratcheting up his production, to opening a second location in Titusville.
While there were brewers at it in Erie before Jason and Nikki and plenty to follow, Lavery's and the Erie Reader were coming up at the same time, which made us kindred decadean spirits of sorts. So it's nearly second-nature to point to their successes as exemplifying the region's successes.
In an earlier op-ed, our editors wrote: "Erie's future is, now more than ever, in the hands of its people. And Erie's future is, as one business branches out and another continues thriving, in craft beer." With the creation and expansion of the Lake Erie Ale Trail, it's hard to argue that statement isn't still true.
We also like food, and over the past decade, it's gotten better in Erie. Yes, meatball omelets at Dominick's, Mighty Fine donuts, world-class chocolates, and damn-near endless sources of chicken wings still all hold a special place in the hearts of those living in and passing through the Gem City. But new places popped up over the course of the last 10 years that have and are advancing Erie's palate.
Mike Augustine's Like My Thai went from pop-up to brick-and-mortar and couldn't be more at home in Erie's downtown. Federal Hill Smokehouse — open from 11 a.m. to 3 p.m. (or when they sell out, which is often before 3 p.m.) — dishes out some of the best barbecue around (not just in Erie) and has helped the resurgence of the Federal Hill area. Red Letter Hospitality brought high-quality dining to the region through its trio of local holdings — The Cork 1794, The Skunk & Goat Tavern, and the revived Molly Brannigans.
And there's food trucks. Yes, in Erie, finally. More seem to roll up each summer, but leading the pack year in and year out is Que Abides with Tim Grow dishing out Dude-inspired delectables.
A Decade's Worth of things to Do
To wash down all the Pad Thai, brisket, and street corn, Erie needs more than beer. It needs caffeine to recharge. At the end of 2017 as winter was creeping in (only to dump a record five-plus feet of snow a few weeks later), former engineer-turned-entrepreneur Hannah Kirby swung open the doors to Ember + Forge, which has since become the go-to place to catch anyone in the know swigging coffee.
Folks there often include the likes of Patrick Fisher, the new executive director of Erie Arts and Culture. Under his leadership, art has a more public place in Erie — from murals on Erie's bayfront to the sides of buildings and more.
Art in Erie abounds inside of buildings as well. After the retirement of long-time Erie Art Museum Director John Vanco, who now has a street named after him and remains active in the community, the museum brought in Joshua Helmer. In October, Helmer was featured in "Museum Directors Under 40: A Brief History of 20 Young Leaders Who Helped Shape Their Institutions" in ARTnews, for the work he's doing in Erie.
But before the arrival of young bucks Fisher and Helmer, the Erie Philharmonic turned 100 in 2013, and is going strong with Steve Weiser at the helm and Daniel Meyer conducting.
As much as we celebrated its all-too-short-lived run on State Street, we mourned the death of the crooked i, Erie's premier venue to catch up-and-coming local acts live, as well as acts you'd previously have to drive to hear in a "bigger" city. Other venues have stepped in — the King's Rook Club transitioning from your grandfather's den to a multi-stage music hall. Basement Transmissions offers an all-ages reprieve, and Jekyll & Hyde's has begun hosting shows, too. The Ballet Haus popped up and went away, only to be revived as the 10/20 Collective (helmed by Elvis Maryshine who you can also find regularly at Ember).
And there's PACA. And Artlore. And more.
Places come and go. But people still want a space to tune in, turn on, and drop out.
Outdoor concerts remained a staple of Erie summers during the 2010s, exemplified by the popular Sunset Music Series on Presque Isle's Beach 1.
Sometimes that's outside at local festivals, like the Blues and Jazz Festival, which continued strong over the decade. Or CelebrateErie, which was reimagined under the Schember administration and is featuring even more things in Erie to celebrate.
Or there's Gears and Grub, which began as a humble alternative gathering to the as-of-2020-on-hiatus Roar on Shore and has grown substantially over the past few years. Or there's the Tall Ships Festival, which docks in Erie every three years. Or there was the 2012-2013 Perry 200 Commemoration, the largest parade in the region's history, which celebrated the bicentennial of the War of 1812 (stay tuned for Perry 300 in the next century).
In the past decade, Erie has become more film-forward. The Film Society of Northwest Pennsylvania continues to offer and support programming for cinephiles young and old, ranging from educational opportunities for young filmmakers to weekly film screenings at the Bourbon Barrel in downtown Erie. The Greater Erie Film Office, which operates under the auspices of the Film Society, has also blossomed in the past decade and has supported many of the aforementioned docu-series that have made their way through the Gem City.
And local filmmakers are on the rise. There's Lyons Den Productions, MenajErie Studio, and Three Gloves Production just to name three.
A Changing Local Climate
No doubt, the past decade has not been without its challenges, many that the region has faced for more than a decade — how best do we educate our youth, ensure that those who seek jobs can find them here, that the budgets are not only balanced but primed for growth, and what to do about our bayfront.
Unarguably, the thing that makes "us" the most "us" is not who we are, but where. The Keystone State's only county out of 67 to touch the Great Lakes, Erie has been called by many, including Gov. Tom Wolf, the "riviera of Pennsylvania." In an era of not just local bayfront development but of global climate change, the future of our place must remain top-of-list in 2020 and beyond.
As we look back on the about-to-be-behind-us decade and think about our path forward, it is surely one of change. The shape of that change remains to be seen. Because even as our urban core is experiencing unprecedented investment and development, other parts of the county continue to battle economic challenges and the problems that often follow stagnation and decline.
The opioid epidemic that we profiled in 2014 and 2016 is still persistent and devastating. Dan Shank noted in his 2018 piece that over the course of nearly 20 years, the number of opioid deaths in the U.S. had grown more than 10 times. As the nation attempts to deal with that reality, so does Erie County. Legalization of marijuana as an alternative to the overprescription of opioid drugs remains hopeful, and as many states have moved toward full recreational use of marijuana, the issue remains up for debate in the Pennsylvania legislature.
Our hope for Our Erie, however, does not lay in wait for the legislature to move toward progressive decision-making. Hopefully, we'll be talking about such progress at the end of the next decade. For now, we recall often the refrain of Bruce Katz who taught us that our future is in our hands. "No one is coming to save you," he's repeated time and again on Erie stages. Federal resources, and to a great extent state resources, elude this region, but the investments made in Erie during the past 10 years give us a great deal to hope for.
From the development of the former GAF property to the Scotts finally breaking ground on a hotel on the bayfront, from the continued evolution of a cutting-edge public library, to the rise of harmful algal blooms on Presque Isle, to the future of the former Erie Coke plant, the Erie Reader has featured many stories about Erie's bayfront development. It bodes well that coverage will continue into the next decade, as on Dec. 19, 2019, workers at the coke plant were met at the gate with the news that the facility was closed and that their services would no longer be needed.
What's next for the site? When will an oyster house open? Will another hotel be plunked down as if the bayfront is the Monopoly Boardwalk? Time will tell.
A revitalized downtown, a bigger and stronger bayfront, the continued development of neighborhoods in Erie's east and west bayfront and the extended development of Erie's Opportunity Zones, the growth of Erie's Innovation District, and perhaps even the establishment of a brick-and-mortar community college hold the keys to Erie County's future successes. It is toward these objectives that Our Erie looks to and for leadership both now and into the new decade.
And Erie will continue to need someone to help tell the story of Erie's future while remembering its past. The Reader — your local voice for news, arts, and culture — will be here reflect on that past and to tell you those tales in hopes that we learn history's lessons and aren't doomed to repeat it decade in and decade out.